Administrative Services
We provide a variety of administrative services such as:
Budgeting assistance
Consultations during protocol development
CTRC New User Orientation
Assistance with study implementation and creation of CTRC-specific study flow sheets and orders
If you have questions, please contact our Director of Nursing, Janette Goins.
Request help with Administrative Services
---
Outpatient Unit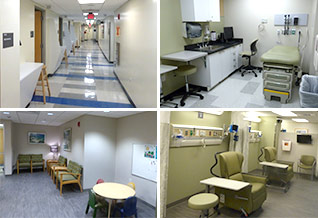 Located on the 1st floor of the Burnett-Womack building, we offer a reception/waiting area, 10 exam rooms, 4 infusion chairs, 2 extended stay rooms, 1 consult room and a procedural care suite with 3 pods, coordinator workroom, provider workroom, lab processing space, conference room, and Code Blue coverage provided by UNC Healthcare.
Hours of Operation
Monday – Thursday, 7:30 am – 5:00 pm (with extended hours available upon request)
Friday, 7:30 am – 1:00 pm
Outpatient Clinic Reception Desk: 919.966.1437
View our CTRC COVID-19 FAQ document (pdf) to learn about the changes we've made in response to the COVID-19 pandemic, and what you can expect when visiting our space on campus.
---
Inpatient Unit
Located on the 1 Memorial Observation Unit, we offer 4 inpatient beds, specimen processing facilities and short-term specimen storage.
Hours of Operation
Available 24/7 two weeks out of the month from Saturday starting at 8 am until closing on Friday at 12:30 pm. Open weeks are designated by the Director of Nursing two months in advance and listed on the inpatient Google calendar located in the "Helpful Information Links" on the CRMS home page.
Inpatient Nurse Mobile Phone: 984.974.8906