The Carolina Health Informatics Program
UNC offers the Carolina Health Informatics Program (CHIP) — an interdisciplinary research and training program that plays a key role in fulfilling UNC-Chapel Hill's commitment to improving human health through health informatics research, data sharing, development and education.

CHIP draws faculty, health care professionals and students from across the UNC campus to conduct basic and translational research — and to offer graduate training in health informatics for scientists across the disciplines and for clinicians in medicine, nursing, public health, dentistry and pharmacy.
CHIP offers certificates, a master's degree, and a doctoral degree in health informatics.
The Program on Health and Clinical Informatics
CHIP has recently grown to include the Program on Health and Clinical Informatics (PHCI), an initiative driven by the UNC School of Medicine and NC TraCS.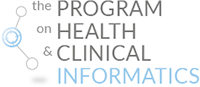 As director of PHCI, Dr. Sam Cykert has joined with a multidisciplinary team of researchers from the schools of Pharmacy, Public Health, Information & Library Science and Medicine to develop a PhD program in Clinical Informatics, with a special emphasis on translational and applied informatics.