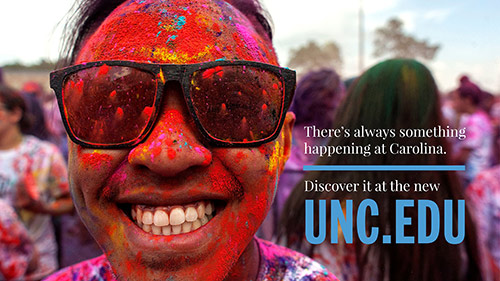 UNC-Chapel Hill's main website has been redesigned into a modern storytelling platform to better highlight the University and connect with the people it serves. With a mobile-first approach, the redesigned site uses large images, video and social media to tell the compelling stories of the people who make the University an extraordinary place.
"Every day, we are learning new ideas, discovering solutions to challenging problems and changing the world here at Carolina," said Chancellor Carol L. Folt. "We need a website that is easy to use and faster to navigate, which showcases vivid imagery and allows us to share dynamic content. Thanks to the hard work of so many, our new website accomplishes this and more, bringing to life the Carolina experience that is changing our state, nation and world."
The site allows navigation through three paths: users can find the information they need through an improved search function; discover content that is organized by themes, allowing them to explore topics such as the University's impact on the state; or navigate through links to content about campus.
"The new UNC.edu serves as Carolina's digital front door, opening the University for the world to see," said Joel Curran, vice chancellor for University Communications. "This redesign gives Carolina a fresh look and enhanced functionality so that we can better show off the beautiful campus and the people who make Carolina one of the world's leading research institutions and a place where innovators thrive."
One of Folt's priorities has been to ensure the University broadly shares stories about students and faculty excellence to demonstrate Carolina's value to the state and commitment to the future.
The redesigned website comes as the University recently launched the Blueprint for Next, Carolina's strategic framework that will guide the University over the next decade, and has embarked on a five-year campaign to raise $4.25 billion to foster an innovation generation.
"These are important initiatives that will have a meaningful impact on our state," Curran said. "This new site will help us show off the successes from these initiatives in an impactful and engaging way."