Rooted recognizes David Peden in the advancement of research at Carolina
David Peden has been contributing to research at Carolina for 30 years.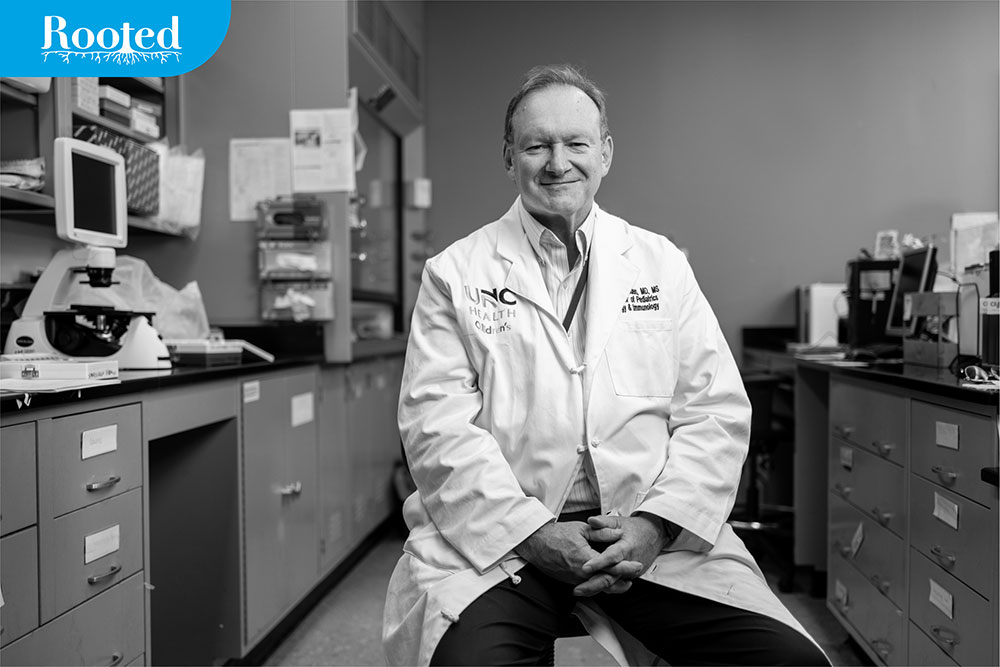 David Peden is the senior associate dean for translational research at the UNC School of Medicine (SOM). In addition to his extensive research on the effects of allergens, the professor of pediatrics, microbiology & immunology, and medicine aided in the creation of the North Carolina Translational and Clinical Sciences (NC TraCS) Institute and the Division of Pediatric Allergy and Immunology within the SOM.
What brought you to Carolina?
During my stint at the National Institutes of Health (NIH), I was working to find an antimicrobial agent in nasal airway secretions when I found an antioxidant that proved to be uric acid. This was of interest to investigators at the U.S. Environmental Protection Agency (EPA), co-located on the UNC-Chapel Hill campus with the UNC Center for Environmental Medicine, Asthma, and Lung Biology (CEMALB) at the EPA Human Studies Facility.
Carolina and the EPA were interested in recruiting an allergy and immunology-trained investigator to explore how air pollutants might enhance an allergic person's response to an allergen, like ragweed or house dust mites. I was offered the position of full-time allergist in the Department of Pediatrics doing human translational research in the CEMALB on the effect of air pollution in people.
How has your role here changed over the years?
My primary research interest has stayed the same over the years — how environmental agents impact human airway inflammation in people with and without asthma, along with the development of interventions to mitigate the effects of these agents. In addition to these research efforts, I led the development of the Division of Allergy and Immunology in the Department of Pediatrics in 2001, which at times has included the Departments of Rheumatology and Infectious Diseases. I've also held multiple leadership roles:
2002-2020 – Chief of the Division of Allergy and Immunology
2002-2020 – Director of the CEMALB
2004-2016 – Associate Chair for Research, Department of Pediatrics
2011-Present – Senior Associate Dean for Translational Research, School of Medicine
2016-2021 – Vice Chair for Translational Research, Department of Pediatrics
2017-2018 – Interim Director of the Institute for the Environment
I've had many collaborations to expand research at Carolina. In 2007, I was recruited into the effort to land a Clinical and Translational Science Awards grant at Carolina, specifically to direct the child health core. This was achieved in 2008 and led to the launching of NC TraCS.
Continue reading at research.unc.edu
---
Rooted recognizes long-standing members of the UNC-Chapel Hill community who have aided in the advancement of research by staying at Carolina. They are crucial to the research enterprise, experts in their fields, and loyal Tar Heels.
Photo by Andrew Russell.