If you missed the 2019 Norma Berryhill Distinguished Lecture, delivered on Oct. 18 by Giselle Corbie-Smith, MD, MSc, Director of the UNC Center for Health Equity Research, a video of the lecture is now available.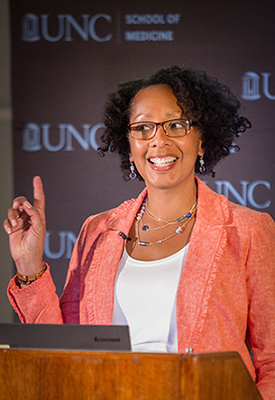 Corbie-Smith's lecture, titled "Leveraging the Power of Collaboration and Engagement to Achieve Health Equity," can be viewed in full here.
The lecture was only one part of an exciting week for Corbie-Smith, who was also elected to the prestigious National Academy of Medicine in recognition of her work on the practical and ethical issues of engaging communities in research to achieve health and equity.
About the Norma Berryhill Distinguished Lectureship:
The Dean and Advisory Committee of the School of Medicine established the Norma Berryhill Lectureship in September 1984. The Lectureship has two essential components: (1) a Lecture to be given annually by a member of the faculty of the Medical School; and (2) a convocation of the Medical School to be held at the time of the Lecture and at which new faculty members will be recognized.
The aims of the Lectureship are twofold. First, the selection of the Norma Berryhill Lecturer is meant to honor a member of the faculty whose accomplishments have added distinction to the Medical School.
Second, the convocation is intended to further a sense of community within the Medical School. Because Mrs. Berryhill was a major factor in developing this sense, the Lectureship was named in her honor.