Renowned geneticist Magnuson named Vice Chancellor for Research
When Terry Magnuson walked onto the UNC-Chapel Hill campus in 2000, he knew he'd arrived at a unique environment for researchers.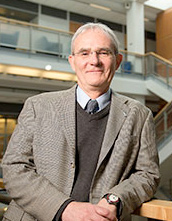 "My first day on campus is when I realized this is the place I want to be," Magnuson, the Sarah Graham Kenan Professor and founding chair of the Department of Genetics at Carolina, said. "It goes back to the special culture of this institution that I did not see at other places. It's easy for our faculty, our staff, our trainees to work across boundaries, across schools, and into the college."
Magnuson spent the next 15 years adding to that culture he felt on Carolina's campus. He helped build a $245 million-backed genetics and genomics program from scratch — which meant recruiting 42 faculty members from different disciplines. He established the School of Medicine Department of Genetics and directed the newly established pan-campus Carolina Center for Genome Sciences. Just a few months after joining Carolina, he created the Cancer Genetics Program within the Lineberger Comprehensive Cancer Center. In 2010, he was named vice dean for research in the School of Medicine.
And Tuesday, he was appointed the UNC-Chapel Hill Vice Chancellor for Research, a position that leads Carolina's campus-wide, $1 billion research program. The appointment, effective July 1, was recently approved by the University's Board of Trustees.
"Terry is a national leader in this field and one of our deeply trusted colleagues,'' Chancellor Carol L. Folt said. "We are so honored that he will guide the basic curiosity, passion and creativity inherent in our faculty and students to help unleash the innovation potential of this great university."
Passing the torch
Current Vice Chancellor for Research Barbara Entwisle has spent the past five years building the university's reputation as one of the leading research institution in the country. For the first time, under her guidance, UNC-Chapel Hill entered the ranks of the nation's top-10 research universities in both overall and federal expenditures.
Magnuson said he believes Carolina can continue to build strength through its integrated research teams working on very challenging problems. He also emphasizes the importance of technology.
"It's a critical component of research success," he said. "To do research these days requires very complicated, expensive technology. That is something the university needs to pay attention to and provide." He credits the University Cancer Research Fund for providing investigators with the equipment needed to produce the data required to make them competitive for research grants.
Facilitating success
Magnuson has not only spent the past 15 years building a genetics program at Carolina — he's also focused heavily on his own research. Currently, the Magnuson lab studies the role of mammalian genes in unique epigenetic phenomena like genomic imprinting (when a gene is silent or not "turned on") and X-chromosome inactivation (when one of the two copies of an X chromosome present in female mammals is disabled). The lab has published more than 150 papers on these research areas.
Magnuson graduated from the University of Redlands, earned his doctorate degree in biomedical sciences from Cornell University, and completed a postdoctoral fellowship at the University of California, San Francisco. He has received much recognition for this research, and is a member of both the American Academy of Arts and Sciences and the National Academy of Medicine. In 2014, he was appointed to the National Institutes of Health Council of Councils, an exclusive group of the top minds in the nation charged with guiding research projects that transcend the National Institute of Health's centers and institutes. He's also a founding member of the International Mammalian Genome Society and has served on the board of directors for both the Society for Developmental Biology and the Genetics Society of America.
Success for Magnuson is not defined by this list of accomplishments, but rather by what he can do to help others be successful. "I want to facilitate our faculty's success and impact on the world's most challenging problems," he said. He also emphasizes the importance of research that cuts across multiple disciplines.
"Research, really, is not just biological, biomedical science," he said. "The strength of this university is the incredible programs that span many different disciplines. It's really important to stress the importance of the breadth of research at UNC — from the arts and humanities across the social, natural, physical, and biological sciences. That's really the strength of this university."
Magnuson said he hopes to expand his own mind on the diverse research that takes place at Carolina by meeting frequently with the research teams at different schools — not just for information, but to really discuss initiatives, projects, and collaborations.
"This office needs to have a continual interactive dialogue with the researchers across campus," he said. "I view my role as being there on the ground, attending appropriate seminars that put me face-to-face with faculty so I can talk with them, understand what their ideas are, and learn how we can enable these ideas."
By Alyssa LaFaro, Office of Research Communications
Published February 23, 2016.