Clinical & Translational Research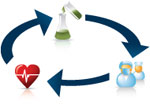 Translational Research takes scientific discoveries made in the laboratory, in the clinic or out in the field and transforms them into new treatments and approaches to medical care that improve the health of the population.*
NC TraCS is part of a national consortium, funded through the NIH Clinical and Translational Science Awards (CTSA), that shares a common vision to expedite the translational research process and the time it takes for laboratory discoveries to become treatments for patients.
How does clinical research relate? An essential part of translating laboratory discoveries to treatments is clinical research, a type of research that involves a particular person or group of people or uses materials from humans. Clinical research is essential to bringing research discoveries to communities.
Definitions
Clinical Research
Research with human subjects that is:
Patient-oriented research. Research conducted with human subjects (or on material of human origin such as tissues, specimens, and cognitive phenomena) for which an investigator (or colleague) directly interacts with human subjects. Excluded from this definition are in vitro studies that utilize human tissues that cannot be linked to a living individual. It includes: (a) mechanisms of human disease, (b), therapeutic interventions, (c) clinical trials, or (d) development of new technologies.
Epidemiological and behavioral studies.
Outcomes research and health services research.
Studies falling under 45 CFR 46.101(b) (4) (Exemption 4) are not considered clinical research by this definition. **
Translational Research
Translational research includes two areas of translation. One is the process of applying discoveries generated during research in the laboratory, and in preclinical studies, to the development of trials and studies in humans. The second area of translation concerns research aimed at enhancing the adoption of best practices in the community. Cost-effectiveness of prevention and treatment strategies is also an important part of translational science. **
Health/Research Priorities
We partner with a number of community groups throughout North Carolina, particularly Healthy Carolinians, to identify health priorities that need the most attention. We aim to rigorously tackle the following priorities through various perspectives across the translational spectrum including, but not limited to, basic science, laboratory science, clinical trials, epidemiological studies, comparative effectiveness, development of best practices, individual to institutional-level approaches, and preventative to curative approaches.
Cancer
Obesity
Mental Health & Substance Abuse
Delivery and Access
Childhood and Youth Issues
Chronic Disease
Infectious Disease
Injury and Violence
Environmental Health
Participate in Clinical Research
Interested in helping expedite the translation process by participating in a clinical trial? Join The Conquest and ResearchMatch.org can help pair you with studies you may find interesting.
On average, it takes the participation of 5,300 study volunteers to obtain the results needed for a new drug application. If you are looking for a clinical study at UNC-Chapel Hill, search our local databases for appropriate opportunities as well as link with specific coordinators in the area(s) of research for which you are most interested. Visit the Center for Information and Study on Clinical Research Participation (CISCRP) for more information about clinical research and questions you should ask before volunteering.
---
*Modified from the NCI translational research working group (2006)
** Source: grants.nih.gov