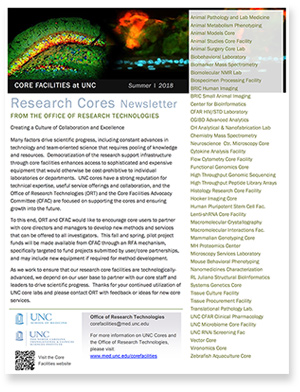 UNC Office of Research Technologies has published its summer newsletter featuring updates from the research core facilities.
The UNC School of Medicine currently houses more than 50 research core facilities. These core labs have a strong reputation for technical expertise, useful service offerings and collaboration and the Office of Research Technologies (ORT) and the Core Facilities Advocacy Committee (CFAC) are focused on supporting the cores and ensuring growth into the future.
In the Summer 2018 Research Cores Newsletter, you will find:
updates on pilot project funding available from CFAC;
highlights from the Human Pluripotent Stem Cell Core, Animal Studies Core and Animal Histopathology and Laboratory Medicine Core;
introductions of new core directors and technologies in the Biomolecular NMR Facility and the Protein Expression & Purification/Macromolecular Crystallography cores;
and an overview of new service offerings from the High Throughput Sequencing Facility.
To learn more, please read the newsletter at the link provided above. For more information on UNC Core Labs and the Office of Research Technologies, please visit ORT or email This email address is being protected from spambots. You need JavaScript enabled to view it..