About Us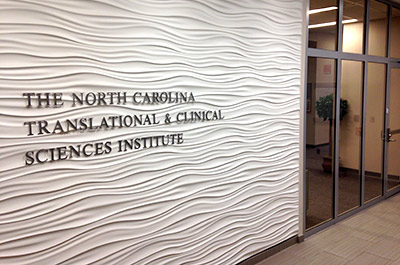 Our mission is to accelerate clinical and translational research from health science to discovery to dissemination to patients and communities.
We seek to overcome barriers to translation by improving efficiency, training the research workforce and sharing successful research methods.
We aim to:
Develop and support a skilled and diverse clinical and translational research workforce to advance translational innovations and address healthcare priorities
Engage diverse stakeholders as active partners in translational research, and promote innovative approaches to team science
Integrate translational research across the research continuum, disciplines, populations, and throughout the lifespan
Develop and disseminate innovative methods and approaches to address scientific and operational barriers to translating scientific findings
Incorporate cutting-edge informatics tools and methodologies in every aspect of translational research
Our unique combination of research and training resources supports the full range of clinical and translational research, from basic science to clinical application to policy change, in order to benefit patients across the state and nationally through the CTSA Consortium.
For a high-level overview of our organization and the services we offer, download our brochure.
The North Carolina Translational and Clinical Sciences Institute is funded by a Clinical and Translational Science Award from the National Center for Advancing Translational Sciences, National Institutes of Health, grant UL1TR002489.
Additional funding for the NC TraCS Institute comes from the following:
UNC Health Care
State of North Carolina
Lineberger Comprehensive Cancer Center
UNC School of Medicine
UNC Office of the Provost
UNC Office of the Vice Chancellor for Research & Economic Development