Chris Barker, PhD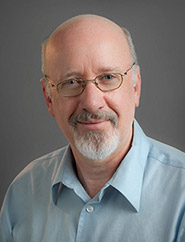 Basic Science Program Co-Manager
Since 2011, Chris Barker has been Director of Strategic Alliances for Enabling Technologies as well as Director of Special Projects for the School of Medicine (SOM) Office of Research. In these roles he is working with the TraCS administration and the SOM administration to find ways to make scientific resources more accessible to UNC researchers and to make existing resource facilities work at a higher level and thus meet the future needs of the UNC community. In addition, he chairs the SOM committee that reviews applications by faculty for Facility Use Agreements which allow startup companies to be located on campus.
He received his PhD in molecular virology in the laboratory of Dr. Eric Hunter during which time he developed many of the tools needed to study primate retroviral systems at a molecular level, which included molecularly cloning the first primate retrovirus. Since then he has worked in a broad range of scientific areas in both academics and industry to implement novel scientific methods or systems in a robust manner in positions of increasing responsibility — included setting up the laboratories in a startup company focused on development of anti-Hepatitis B therapies and set up of a GMP facility for production of plasmid based vectors for gene therapy clinical trials.
Dr. Barker was Vice President for Molecular Biology at Genomic Solutions Inc where he recruited and led a team to develop methods for the robust performance of DNA microarrays while also alpha testing new equipment and software. For ten years he was Director of the Gladstone Genomics Core leading a team providing guidance, training and microarray services to Gladstone and UCSF. For the second half of that period he was also Scientific Resources Director in charge of all Gladstone Core facilities and serving as liaison with UCSF for scientific resources.