Bob Blouin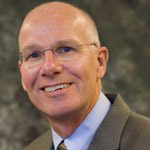 Co-Director
Robert A. "Bob" Blouin is the Vaughn and Nancy Bryson Distinguished Professor and dean of the UNC Eshelman School of Pharmacy at the University of North Carolina.
Before coming to UNC in July of 2003, he was a faculty member and administrator at the University of Kentucky College of Pharmacy from 1978 to 2003. Blouin last served as professor and associate dean for research and graduate education from 1997 to 2003 at the University of Kentucky College of Pharmacy. His responsibilities as associate dean included overseeing the development and expansion of the Center for Pharmaceutical Sciences and Technology, a multimillion-dollar cGMP drug formulation and manufacturing facility.
As the executive director of the Office for Economic Development and Innovations Management, he served as the College of Pharmacy representative on all issues external to the University of Kentucky and those relating to economic development of the pharmaceutical sciences. He represented the college on several statewide biotechnology initiatives and has worked to advance faculty-based intellectual property.