The NIH visits NC TraCS
In January, NC TraCS was visited by the NIH leaders from the National Center for Advancing Translational Science (NCATS):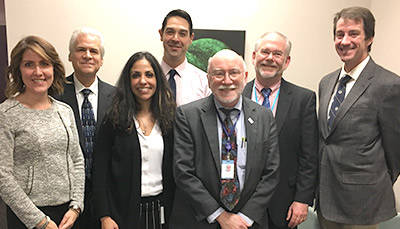 Christopher P. Austin, MD, Director
Michael Gregory Kurilla, MD, PhD, Clinical Innovation Director
Samantha G. Jonson, MPS, Special Assistant, Office of the Director
NC TraCS directors, staff and trainees presented some of the accomplishments of the past decade of our work, as well as plans for the future. The day's agenda also highlighted in-person testimonials from TraCS investigators Dr. Shawn Hingtgen and Dr. Rahima Benhabbour, and pilot awardees Dr. Scott Magness and Dr. Kennita Johnson.
Tim, John and Andrea want to thank the approximately 20 individuals who shared their experience and expertise with the NCATS representatives.
They were especially impressed with UNC's success in working with partners within our state, as well as our interdisciplinary character and ability to form teams across departments and schools. Even with the current budgetary uncertainties coming out of DC, our focus on science and engagement with our state and our patients remains our prime focus.
A quote from the leaders: "We very much appreciate all the work that went into a fantastic and well-planned visit."