UNC Health Care site of Adaptable study exceeds enrollment target
Enrollment of UNC Health Care System (UNCHCS) patients into the multi-site Aspirin Dosing: A Patient-centric Trial Assessing Benefits and Long-Term Effectiveness (ADAPTABLE) study has reached 581 participants, exceeding the UNCHCS site's original enrollment target of 500 participants.
The ADAPTABLE study is a three-year pragmatic clinical trial comparing two different doses of daily aspirin to evaluate which dose is more effective at preventing heart attacks and strokes for patients with cardiovascular disease. The study is being conducted at sites across the United States, with a recruitment goal of 15,000 participants.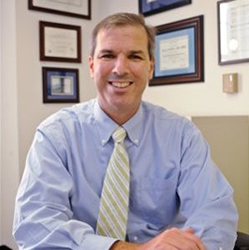 At UNCHCS, the ADAPTABLE study is led by Darren DeWalt, MD, MPH, Chief of the Division of General Medicine & Clinical Epidemiology at the University of North Carolina at Chapel Hill School of Medicine and the site PI.
"Recruitment is one of the most challenging aspects of many studies," said DeWalt. "Our ADAPTABLE team worked closely with TraCS to streamline recruitment processes through email and MyUNCChart. These methods enabled us to exceed our goal with modest resources."
A Participant's Perspective
One aspect of ADAPTABLE that facilitates study enrollment and participation is the availability of study materials online at the study patient portal. The patient portal provides an overview of the study and what participation would involve. This information is provided in multiple formats – a short, animated video as well as written documentation.
Mark Kutcher, DDS, MS, a participant enrolled in the ADAPTABLE study, shared that the study is "straightforward and easy for me to participate. To me, it's an advance in clinical research to be able to have study materials online."
Another aspect of ADAPTABLE that distinguishes it from more traditional clinical trials is the use of a participant's medical records as an integral part of the research study. By using existing clinical data from the participant's medical records with their consent, ADAPTABLE minimizes research-only interactions. As a result, participants continue with their routine medical care with no need for separate study-only visits. In this way, the study is less burdensome to participants.
Kutcher continued to say that, "I would have no problems participating in studies like this. Indeed, the more that can be online that I'm comfortable with means the less that I have to travel or get involved with paperwork and so forth."
Learning Health Systems and Pragmatic Clinical Trials
Effectively using the health data generated every day in medical practices and health systems across the country is key to improving patient care and health outcomes. This is often described as creating learning health systems — where research and insights gleaned from data inform clinical practice and where clinical practice informs the research.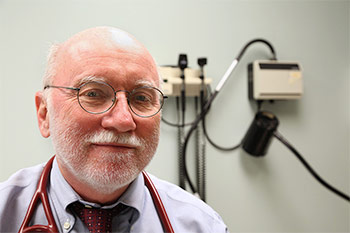 "UNC is now able to collaborate with researchers around the country in these types of relatively low cost, very practical studies. Through working with patients and providers, we hope to leverage the power of using data already collected as part of clinical care," said Tim Carey, MD, MPH, Co-Principal Investigator of the North Carolina Translational and Clinical Sciences (NC TraCS) Institute.
---
Learn More
The ADAPTABLE study is funded by the Patient-Centered Outcomes Research Institute (PCORI), led by a coordinating center at the Duke Clinical Research Institute (DCRI), and will leverage clinical data available through the Patient-Centered Clinical Research Network (PCORnet).
PCORnet is a network of networks designed to make it faster, easier and less expensive to conduct clinical research by fostering partnerships between patients, clinicians and health systems. It is currently comprised of 13 Clinical Data Research Networks (CDRNs); 20 Patient-Powered Research Networks (PPRNs); and 2 Health Plan Research Networks (HPRNs).
Carolina's involvement in PCORnet is managed by the NC TraCS Institute, the integrated hub of the NIH Clinical and Translational Science Awards (CTSA) Program at UNC-Chapel Hill.
For more information about the ADAPTABLE study, visit theaspirinstudy.org.
For more information about the ADAPTABLE study at UNC-Chapel Hill, visit www.shepscenter.unc.edu/project/adaptable-aspirin-study.
For more information about UNC Health Care's involvement in PCORnet, visit tracs.unc.edu/cdrn.
For more information about pragmatic clinical trials, visit rethinkingclinicaltrials.org/chapters/pragmatic-clinical-trial/what-is-a-pragmatic-clinical-trial/.