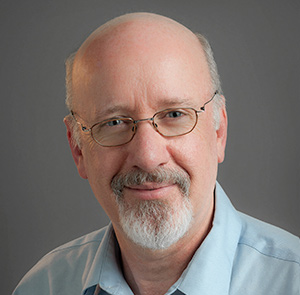 Position/Title: Director of Strategic Alliances for Enabling Technologies, NC TraCS | Director of Special Projects, Office of Research | Research Associate Professor, Department of Genetics
Years at TraCS: 6.5 years
Years at UNC: 6.5 years
Please note: The following profile is based on excerpts of a transcribed conversation with Chris discussing his work at TraCS, his background and his plans for retirement. The conversation has been lightly edited.
A little bit about those titles –
I have a very unusual position here at UNC because I was hired as a trailing spouse, or as I like to put it, they wanted my wife so bad that they had to take me. The position that I have is located in TraCS, I have a faculty position in the department of Genetics, and I report to the Vice Dean for Research for the medical school. So the result is I actually have two official titles – a TraCS title and a medical school title.
My title for TraCS is Director of Strategic Alliances for Enabling Technologies. The thought when they were hiring me was that we wanted to do more outreach to other universities and institutions in the area. My background is in technology, biotechnology specifically and how to use scientific resources, and so we went from there.
And then my title for the Office of Research is Director of Special Projects…which means whatever they think of.
The result is that in both cases it's been a very broad and varied portfolio. One of the members of the Office of Research when I first got here described me as a "Minister without Portfolio."
Background
Where are you originally from? I'm originally from Albany New York – the Albany, NY area I should say. I grew up there.
My father was a newspaper man who gradually over the years moved into public relations. He would write articles for the Sunday supplement – just human interest stories. He had a weekly column in one of the newspapers. He had a whole hodgepodge of things. The last job of his career was as the Director of Public Relations for the local community college. When he was doing the public relations, he would write up the press releases and he would give them to us kids and force us to read them and critique them. So I actually learned how to do press releases in high school. He went back to college after most of us were grown – we had a large family – to get a college degree. He was the first from his family to get a college degree. He needed that college degree to get the position at the community college.
My mother was also the first person in her family to have a college degree. She was a language major studying French. And then she stayed home for years to raise a large family. What we learned subsequently was that she actually was a polyglot. Through the years, after we were grown, she was picking up languages as they were traveling. She was fluent in French and Spanish. I think she could do Italian. My parents were in the Philippines for two years and she picked up Tagalog. And she said that she could make herself understood in Cantonese.
But when we were kids she was very, very strong about the kids learning to read. And emphasizing that at a very early age. So that was very important to us particularly since we lived out in the country and this gave us something additional to keep us occupied.
The school that I went to was a campus school. If you're unfamiliar with a campus school, these are schools that are set-up by universities for the purposes of training new teachers. The school that I went to was 7th through 12th grade. It was a public school, but with limited enrollment. There was no tuition – and we wouldn't have been able to afford it if there had been any. As a potential student you would take an entrance exam before 7th grade and then they would pick out what they called an "average" class. They didn't want the smartest kids, what they wanted was a class that could be representative. Each grade had 72 students – 36 boys and 36 girls. And they picked kids with scores from the top, middle, and bottom of the exam. Over the course of the 6 years that you were there, kids would move away and such. And over time the tendency was for kids to move into the top range, so for the last few years it really functioned as a very strong magnet school for the region.
It was a very intense and very different kind of education that I had in junior high and high school – to the point where one of our supervisors [a university faculty member] pointed out to us one time how we had a big responsibility because as students we evaluated the student teachers. A new student teacher would come in and we would evaluate them as part of what we were doing. If they were having problems but they showed promise, it was up to us to cut them some slack and help them to grow into it. And if they were someone who should never be in front of a classroom, then we should drive them out. Those were his words – drive them out. And that's how it worked. The end result was that we learned a lot about the process of education at that age.
Work
Can you tell us a bit about your TraCS work developing the partnership with North Carolina A&T State University?
When the second grant started, the intention was to create a partnership with A&T as well as the partnership with RTI. Distance to A&T made this more difficult, as well as the fact that historically there had been very little communication between the two universities. Part of the issue was that people were going to Greensboro and they'd be there for an afternoon to talk with a few people and then they'd leave. But there was no consistent communication or presence. So I was asked to go out there three days a week and I made the commitment to do that, to be the consistent presence.
At that time, A&T was making a big change. They were incorporating a focus on research into their already strong focus on teaching. They had just finished hiring a first round of very bright, very young, very energetic new faculty in the sciences. We established lines of communication so that they could meet up with people, find collaborators and connections. That's where we were and that's what we did. And we had good success with that. I was fortunate that Barry Burks [Vice Chancellor for Research and Economic Development at N.C. A&T] bought into my approach to breaking down communication barriers and he opened many doors for me there.
Barry also had a list of things he wanted to try to do to enhance the partnership and communication. One of them was to increase the opportunity for A&T master's level students to be competitive for PhD programs. He pointed out that the terminal degree in the life sciences at A&T is a master's degree. Some of their [master's degree] students want to go on for a more advanced degree and some don't. For those who do, Barry wanted to increase the possibilities for them to be competitive. And, if there was a program that made sense, A&T could pay for a small number of students to go into it.
First, I had to find out what programs exist here but no list of these programs existed even though others had expressed frustration that this information wasn't available. So I did it. And I was able to leverage my position in the Office of Research to get this information. UNC has programs that start in middle school run through high school. They have programs for college students, graduate students, and employees. I know that I likely missed some, but there's now a comprehensive list that we've shared with the Campus Diversity Office.
Once we had that information, we identified a program that had promise for A&T. We opened discussions with the Office of Graduate Education in the medical school to find a way to connect entering A&T master's students to the SOLAR program. It's a 10 week summer research program focused on college juniors and seniors. We were able to negotiate an MOU between the two universities to link the two together through a few slots in the SOLAR program. It's a small number of A&T student slots paid for by A&T that is increasing communication between the BBSP (the umbrella program at UNC that oversees the SOLAR program) and the leadership in the master's degree programs at A&T. We now have A&T students coming into the program – they work in someone's lab over the summer as well as take enrichment courses. The hope is that they will be working in an area that they continue for their master's work at A&T. This then increases lines of communication between those faculty members. There's the potential for A&T students to apply to return to UNC for their PhD work, or to have recommendations from and connections to UNC faculty to help them go somewhere else. Either way it's a win-win.
Personal
What are your plans for retirement? At this point, I don't have any. My wife is going to continue working – she has no plans to retire any time soon. Let's put it this way, when I first mentioned retirement people would ask me, "So is Jane going to retire?" and my answer was in 10 or 15 years. She can retire whenever she wants but loves what she is doing.
I have a couple of hobbies – I love to cook and I like photography. And I do those. I do home repair type of stuff as well as gardening.
And we'll see. The way retirement works for state employees, you have a 6 month period where you're not allowed to have contact with your employer. So I have 6 months. And quite frankly, I'll see. At the end of 6 months, or at some later point, if I'm going stir crazy then I may reach out to leadership here and say, "got anything for me?" I won't be interested in a 2- or 3-day a week job, but I might be interested in a project. So we'll see but I suspect I'll find new ways to keep busy, I always have.
Is there anything on your bucket list that you're going to check off in the first 6 months of your retirement? Nothing in particular. Again, my wife is still working. However, we do like to travel. We usually do one major trip a year. This summer, she has a meeting in London so we're going there, then we'll take a side trip to Scotland.
My wife doesn't like to travel places she's been to before, so we'll go someplace new. Our travels have been varied as a result. At this point we haven't been to eastern Asia. I suspect that we'll be doing Japan in the next few years. We have friends who have a place in Japan and it's good to have a personal guide there because most of the signs aren't in English. Unless you can read kanji, it can get tricky.