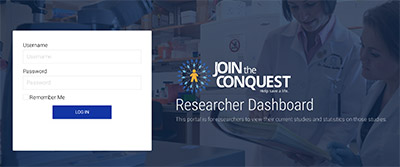 Do you currently have a study listed on the NC TraCS Join the Conquest (JTC) website?
Do you plan to list a study, or more studies, in the future?
The NEW Join the Conquest (JTC) Researcher Dashboard is here! In response to your feedback, we created this new Researcher Dashboard so you can see and edit all of your approved and listed studies in one location.
Visit the new JTC Researcher Dashboard at researcherdashboard.unc.edu.
Benefits of the new Researcher Dashboard are:
One location, one stop to see and edit all your JTC study listings
No new log in or password needed, you simply log in with your UNC ONYEN
For studies that rely on an outside IRB, you can submit your studies from the Researcher Dashboard
Visit the how to page for information to list your studies.
Want to learn more? Have questions or suggestions? Contact the JTC team at This email address is being protected from spambots. You need JavaScript enabled to view it. or call 919-966-6022.